How long will my filter last?
THIS DEPENDS ON THE INITIAL QUALITY
OF YOUR UNFILTERED TAP WATER
& DAILY CONSUMPTION
The amount of dissolved solids in tap water varies across the UK. Each ZeroWater filter removes 18,000 milligrams of dissolved solids leaving you with the purest tasting water.
Use the table below in the picture to see how many litres of water your ZeroWater filter will produce.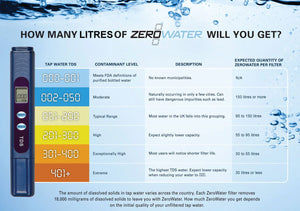 Test & Submit your water quality
Each Jug purchased comes with a FREE Water Quality Meter.
After testing your unfiltered tap water You can submit Your reading to Us to receive a £5 Voucher.
Submit Your reading